April 20th by Taradactyl
Tags:
Connect4
,
Lazer Party Mixtape
,
The Digital Connection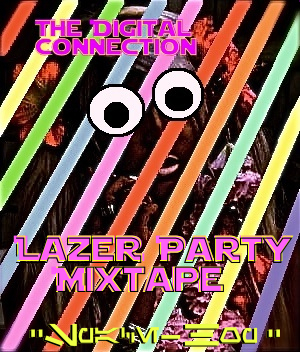 Passionate producer/DJ and homie The Digital Connection (Ricky Shine) is doin' big things. I kid you not when I say that every time I listen to Ricky's newest tracks on SoundCloud, I am even more impressed than the last. His latest and greatest all-original Lazer Party Mixtape certainly reflects this sentiment. And he has spoiled us with a free download! With a nice gradual yet enticing build including sparkly notes and deep stunning melody, the principal development of the mix is on point. Then it transitions into a killer beat with ___ samples from Aretha Franklin's "I Say A Little Prayer for You". I really can't wait for that track's release. The remainder of the mix continues to satisfy my constant craving for mellow yet vibrant electronic frequencies. At a little over halfway through we get some of that nice blappy lazerbass Ricky loves. We later get hints of gangsta bass at around 30:00 which is personally my favorite segment. The bass gets deeper while retaining the unique multidimensional structure of the rest of the mix. Then we get an absolutely beautiful poignant section that makes me want to call my friends and tell them how much I love them J. His remix of Kaskade & Deadmau5's "I Remember" (while admittedly I dislike most that I hear from both) is a fun way to start the wind-down. The mix ends on a high note with a fun upbeat tempo. Listening to Lazer Party Mixtape all the way through is such a treat and it takes you on a pleasant roller coaster ride; just when I feel a slight lull the next moment I feel myself grooving to the beat. It's so clean and thought-out. I can tell that Ricky devoted his soul to this music, revealing to each listener a part of it. This is more expressive and sincere than anything I've heard from him yet.
Indulge yourself and take a listen to The Digital Connection's Lazer Party Mixtape! I know you won't resist downloading.I can't wait for his upcoming release as well as to hear more of his collaboration with friend One4All (named Connect4)! Those two are crushing it across state lines.
~Taradactyl~
Category: Downloads, Music, Reviews |
No Comments »